Hardware Support: XpressNet - Creating an Log File
Start DecoderPro.
Open the XpressNet Monitor (this is in the XpressNet submenu of the "Systems" menu)
The following panel will open: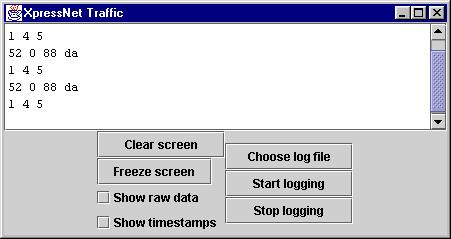 Buttons
"Clear screen" removes all history from the pane
"Freeze screen" stops logging new data to help you study the present contents of the display
Click the "Choose log file" button, and choose a log file name to use (you can keep the default name; the important thing is to know where the file is stored.)
After you click "Save" in the file dialog box, click the "Start logging" button on the pane.
Now you can perform whatever actions you want to perform in JMRI. A log is kept of all traffic on the XpressNet connection.
Click the "Stop Logging" button on the XpressNet Monitor pane to - well - stop logging.
Back to the XpressNet Help page
---
Paul Bender
paul.bender@acm.org
---