Hardware Support: SPROG Generation 5 Hardware
Available as a firmware upgrade to the original Pi-SPROG One, the Pi-SPROG 3 turns a Raspberry Pi module into a fully fledged stand-alone DCC programmer and command station.
DCC command stations and programmers with integrated CBUS® adapters (no need for a separate USB - CAN adapter) and dual track outputs.
Features
Two track outputs allow simultaneous running and programming.
Main track output up to 2.5 Amps
Flexible second track output features:

Up to 2.5 Amp output
Can be disabled when not programming
Can follow main track output when not programming allowing locos to be driven onto an isolated programming track.
Can be used as an auto-reverse power district output (no service mode programming available in this mode.

CAN interface (to be enabled in a future firmware release) for full CBUS connectivity.
A electrically isolated USB CAN adapter that removes any electrical connection between the host computer's USB interface and the CBUS network.
Create a new profile. The example shown is for Pi-PSROG 3 hardware. Enter the name and click OK.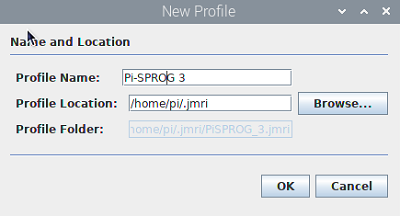 Select the New Profile and click OK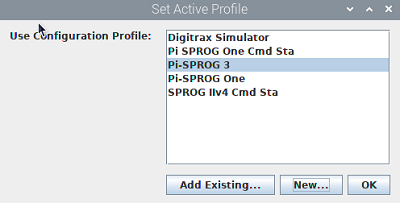 Click Next when the Wizard appears.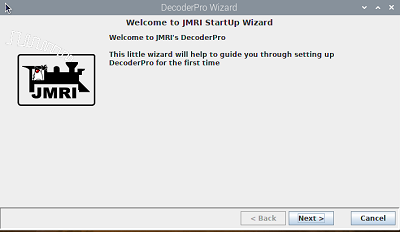 Make the following selections:
System Manufacturer: SPROG DCC Generation 5
System Connection: Select your hardware, e.g., showing Pi-SPROG 3
Serial Port: Selection will depend on host computer and operating system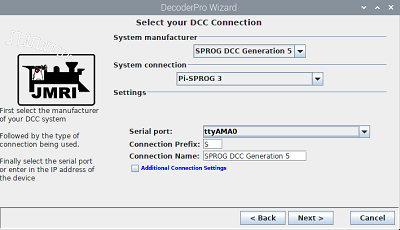 Click Next to complete the setup.
CBUS is a registered trade mark of Dr Michael Bolton
---