JMRI Gallery
This page highlights some of the neat things that people have done with JMRI.
PanelPro Users
OWNry
Kent Williams'
Oregon Washington Navigation & Railway
uses PanelPro for it's signal controls and
dispatcher panel
.
Jim Thompson's Cashaway Valley Railroad
Jim Thompson is using PanelPro to make a dispatcher's panel for his
Cashaway Valley Railroad
. He has a series of pages that describe
how he operates his layout with JMRI
.
Bob Bucklew's Quaker Valley
Bob Bucklew is build a realistic CTC panel for his Quaker Valley Railroad. He's created a very nice series of web pages on
how it's done
.
Alan Huberty's Bloomfield & Oakland RR
Alan Huberty is created a multi-screen control panel for his Bloomfield & Oakland Railroad.

Otis McGee's SP Shasta Route
The goal of
Otis McGee's SP Shasta Route
is prototypical fidelity to 1952 operations. At the time, the railroad was run from a CTC machine at the dispatcher's office in Dunsmuir, CA (see photo to right). To recreate that, Otis has installed a rebuilt United Switch and Signal CTC machine on his railroad (see below).
PanelPro controls the machine and provides CTC control
for the layout via a large seven-node C/MRI installation.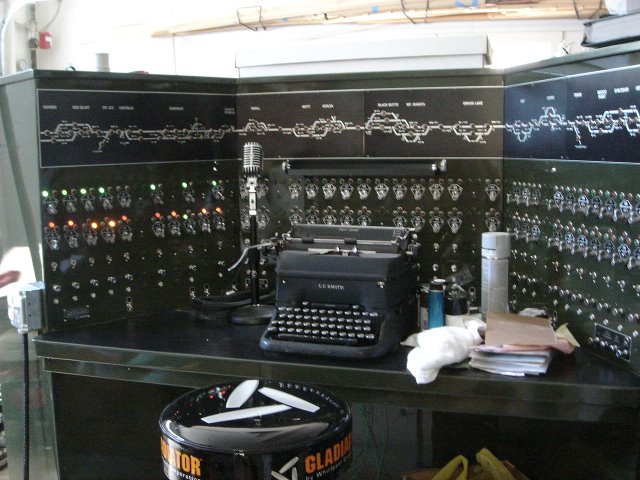 Innovative Uses of the JMRI Libraries
Crandic Dispatcher
The Cedar River and Iowa Central Railway (Crandic) has a great
"Dispatching on the Crandic"
video, along with several others, available for download. The Crandic's control program and dispatcher panel called
CATS
was built by Rodney Black on top of the JMRI libraries. He's kindly made it available as open-source software to anybody who wants to use it.
CATS is used on John Parker's BNSF Fall River Division for their dispatcher's panel.
Model Railroad Manager
The
Model Railroad Manager
software provides inventory, operations, maintenance and layout control programs for model railroads. The layout-related parts are
based on the JMRI libraries
.
---