Adding Signal Masts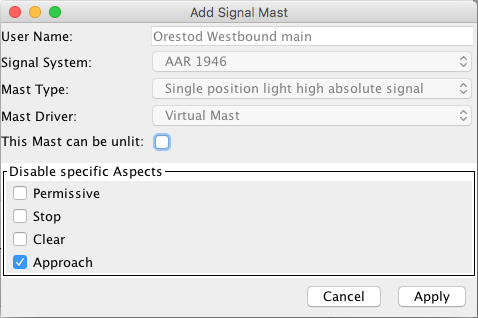 Signal Masts are configured using one of the available Signaling Systems, and the Signal Mast Types supported within that system.
In the Add/Edit Signal Mast panel, after entering a User Name for the new Signal Mast, from the pop-up menu select the JMRI Signal System the Signal Mast is to be based upon.
Next select one of the Signal Mast models available in the selected Signal System e.g. "3 Aspect Signal with Call On".
The third pop-up menu on the Add Signal Mast panel lets you select one of six different Signal Mast Driver types depending upon the hardware being used. More on those in the next section.
Options common to (nearly) all Driver types include:
This Mast can be Unlit: checking this box allows JMRI to turn off the mast, using an extra instruction such as an output state. When configuring a mast that can be unlit, the same aspect ID has to be entered in both the field at the top as the Aspect line below for the correct appearance to be displayed in all possible scenarios.
Disabled: checking this box for an Aspect will grey out the options and have JMRI skip it when changing the state of this mast
Copy Aspects from Mast: DCC, LNCP and Matrix drivers let you copy the settings for a new mast to match an already configured mast. Of course the User Name and outputs should be unique, so they are not copied.
When ready, click Create new (or Apply when editing an existing mast configuration).
Signal Mast Driver types
Click Create new to add the new Mast and return to the Signal Mast Table.
Back to the Signal Mast Table help page.
---