JMRI : CBUS® Bootloader Tool
The bootloader tool allows you to update the firmware in a connected CBUS node
To update the firmware you will need a firmware programming file (.hex file) saved on your computer
Start the firmware update tool from the SPROG generation 5 menu.


Enter the Node Number (the default is 65534) and click Read Node Parameters.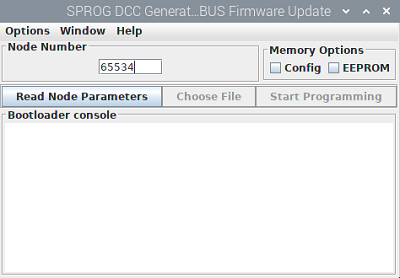 Browse to wherever you saved the .hex file and click Open.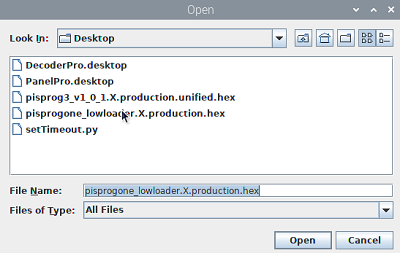 Select EEPROM Memory Option to preserve EEPROM contents (Node Variables).



Click the Start Programming button.



The new firmware will be written to the node. Wait fro the programming to complete, which may take a little while, indicated by the "Bootloading complete..." message in the console.



CBUS is a registered trade mark of Dr Michael Bolton
---